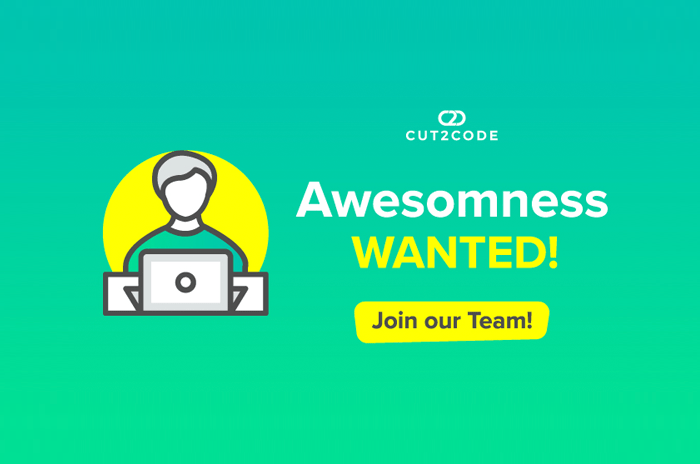 Front-end Developer – we need you!
Hi! We are Cut2Code Ltd., and you can find us in Wroclaw – or if you prefer – in the Polish Silicon Valley. We are a technology company specializing in creating websites based on popular CMS systems. Although we usually work on WordPress, we also code landing pages, mailings, and other front-end projects. We work mainly for foreign clients and the growing number of orders makes us expand the team with a new Front-end Developer – maybe you are the one!
What do we require from you?
Minimum 2 years of documented experience working on WordPress (WooCommerce knowledge would be an asset)
Skills in creating modern front-ends in the RWD technique
Good knowledge of CSS3, HTML5, JavaScript (including AJAX, jQuery technology)
Knowledge of one of Responsive CSS Frameworks (e.g. Bootstrap, Foundation, etc.)
Knowledge of graphic design programs, such as Adobe Photoshop and Adobe Illustrator (proficient enough to cut graphic designs to code)
Knowledge of version control systems (GIT or SVN)
We will be glad to hear that:
You know Less and/or Sass
You have an experience working at Angular or React
You know how to find yourself in the Agile team
You know how to work with Jira and Asana kind of software
You can work with the Sketch application
This is why you won't get bored with us:
First of all, you'll be coding technological projects – from creating websites based on CMS systems, creating HTML/CSS landing pages, to coding mailings or building e-commerce
Prepare also for close cooperation with our other developers – it may happen that you will create some projects together
We will also ask you for regular substantive support for developers at junior positions. Your work will, therefore, be a mix of technological tasks with teamwork and mentoring.
We offer you:
Work on projects for clients from around the world, e.g. USA, France, Great Britain, United Arab Emirates etc.
Attractive salary – depending on your skills, we will offer you between PLN 4,000 and 8,000 net
Work in an ambitious team of people with passion and experience
Support for personal and professional development – for example, recently our team has opened a library for employees
Contact with specialists in various fields – we are a part of the Hexe Capital Group combining the competences of various areas of technology, business, and internet marketing
Do you want to join the Cut2Code team? Send your CV to jerzy@cut2code.com (remember to enter Front-end Developer in the e-mail subject).

In the footer of your CV, it is necessary to add the following clause: I hereby give consent for my personal data included in my application to be processed for the purposes of the recruitment process under the Personal Data Protection Act as of 29 August 1997, consolidated text: Journal of Laws 2002, item 1182 as amended.

cut2code.com &copy 2019