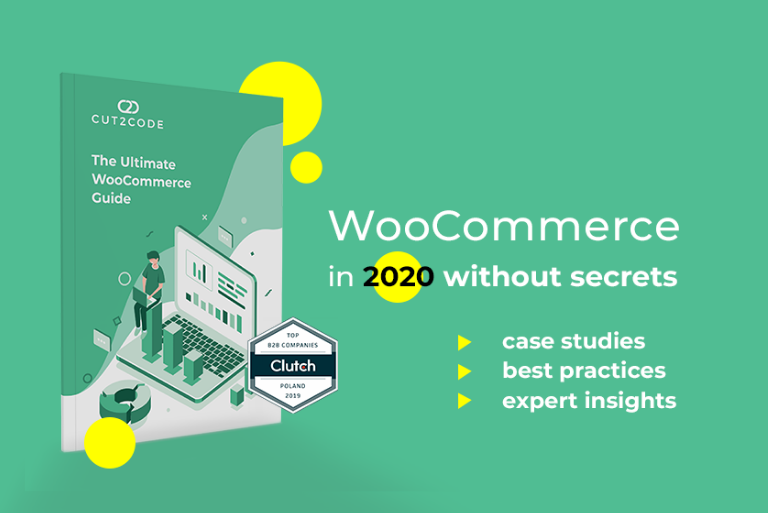 How to easily build, scale and grow your online shop in 2020? Why do specialists recommend WooCommerce and how to implement it step by step? These are the questions asked by many business owners at the beginning of their digital journey. That's why we gathered the knowledge of 12 experts from the technology and business industries in The Ultimate WooCommerce Guide – a comprehensive and free ebook about creating a successful e-commerce store. It's over 100 pages of open knowledge and best practices starting at developing your shop on WooCommerce in just 30 min, optimizing its work, using new technologies to gain more clients and analyzing its success.
Why WooCommerce?
WooCommerce is a free and open-source software that gives endless possibilities to build and expand an online store by adding new WordPress functionalities working on WordPress. WooCommerce offers simplicity and is, at the same time, perfectly adapted to the needs of users. According to BuiltWith, there are currently 3,317,205 live websites using WooCommerce and from the top one million sites, there are 52,458 ones using WooCommerce. What's more, 93.7% of all WordPress ecommerce websites use the WooCommerce plugin and 28.19% of all online stores are powered by WooCommerce.
As experts in a field of web development, we have a wide experience in WooCommerce stores implementations. We decided to share our knowledge with entrepreneurs who want to build an online shop and show them that it is more attainable than one may think

Grzeg Rogoziński, CEO of Cut2Code
What Can You Find In the Ultimate Woocommerce Guide?
The ebook gathers 12 experts specialized in a field of web development, business, new technologies, online marketing and analytics. You'll find there all you need to start your WooCommerce store in 2020. It consists of best practices and insights based on case studies described by people who have tens of implementations for recognisable brands behind them.
Technical Aspects of Your Ecommerce
What to pay attention to when creating a store on WooCommerce?
How to build your E-Commerce using WooCommerce step by step, in just 30 min?
How to analyze and measure the success of your online shop?
A Business Perspective On Ecommerce. Sales, Analytics, Voice Search, Chatbots
Ultimate WooCommerce Guide is much more than technical knowledge. It covers subjects connected to business, new technologies and trends that will help you grow your eCommerce. In Cut2Code's ebook, you'll find insights from companies such as Insightland – an International SEO Agency, Hexe Data – an analytics company, and Chatbot experts from KODA Bots.
Knowledge from related fields makes Ultimate WooCommerce Guide complete. The experts bring a comprehensive perspective on building e-commerce store. Also, they approach it not only from a technical point of view.

Grzeg Rogoziński, CEO of Cut2Code
Discover Trends and New Technologies Applied in Ecommerce in 2020
How to build a positive ecommerce image in the media?
What should you take care of in order to increase the visibility of your WooCommerce in the era of voice search?
How to automate sales processes with the help of chatbots?
Start your WooCommerce E-business in 2020
Even if you're just starting your business online, the most important element of what you say, present, and promise is quality. The main goal of this ebook is to share with you everything you need to create your WooCommerce store with a high standard and experts' insights. Success is not born overnight, but with step by step actions. Ultimate WooCommerce Guide will lead you through the most important of them.