Biedronka
User friendly and engaging Intranet for employees
Biedronka is Poland's largest retail chain with 3,283 stores and almost 80,000 employees.* Owned by Jeronimo Martins Polska, it's a key player in the Polish retail industry, known for quality products at low prices.
The Background
Biedronka sought to elevate its employee intranet, dlanaswjm.pl, in order to optimise the user experience.

Their objective was to establish a centralised communication center for all staff members, incorporating features such as news updates, information on employee benefits, messaging capabilities, and access to discount vouchers. Additionally, they aimed to create a dedicated platform for employees to apply for social packages and to complete necessary documentation.

Our primary goal was to create a web app that would promote essential content more visibly and empower the users to find relevant information with ease.
Country
Poland
Industry
Retail
Technologies


Interested?
The Challenge
Most of Biedronka's employees did not have business email accounts. This situation rendered the intranet their primary source of information. The client needed the website to be accessible to all employees, mobile-friendly, and aligned with contemporary trends and accessibility standards.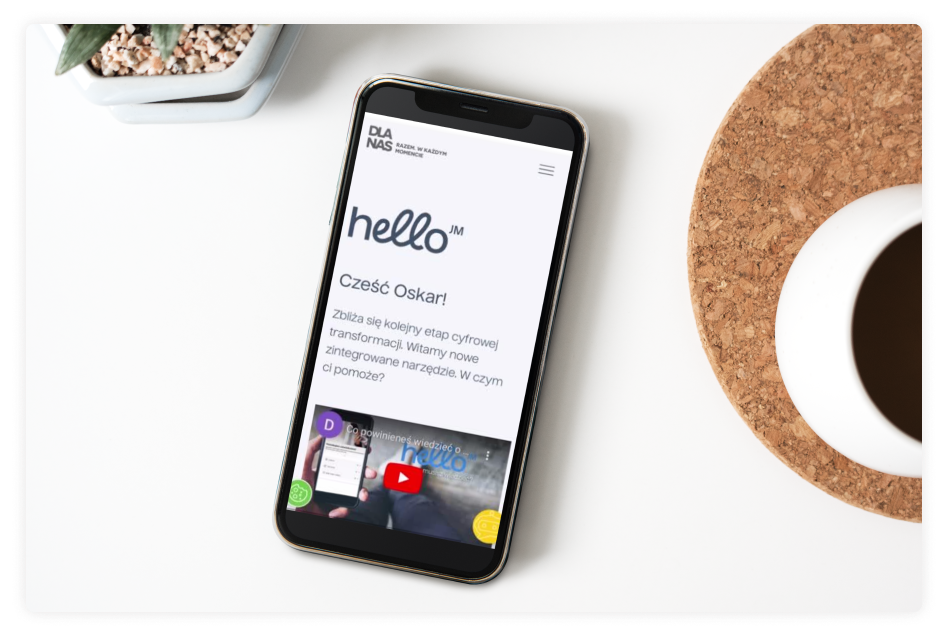 The Process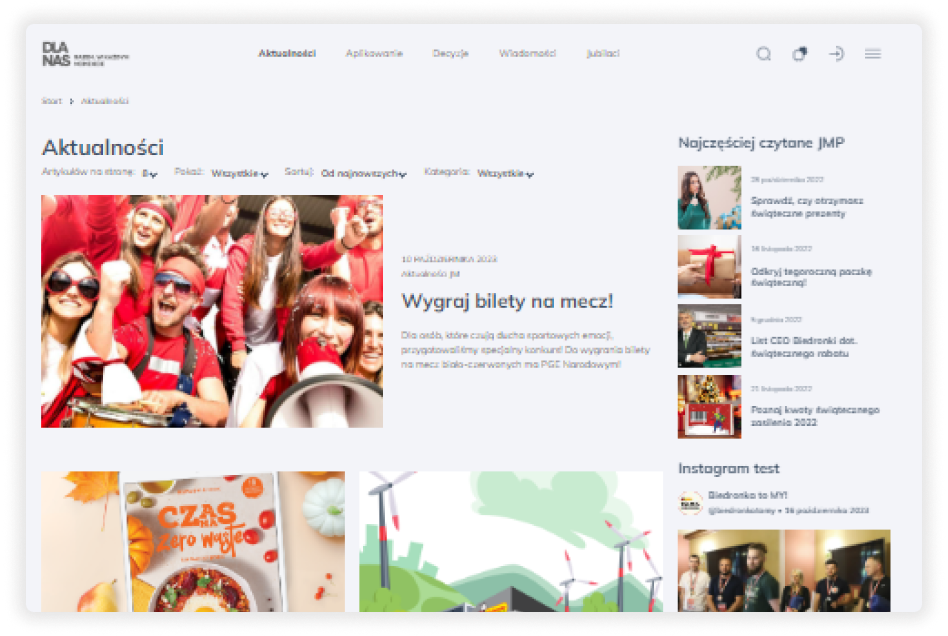 We conducted UX Research, including technical workshops with employees, to understand user needs. Users highlighted the importance of mobile adaptability, home page visibility, and attractive article layouts. This feedback played a crucial role in shaping the direction of our project.
We began by creating mock-up proposals and allowed users to select from three colour schemes. Our aim was to maximise employee satisfaction by improving navigation, adding filtering and sorting options, introducing widgets for popular content, and revamping the homepage.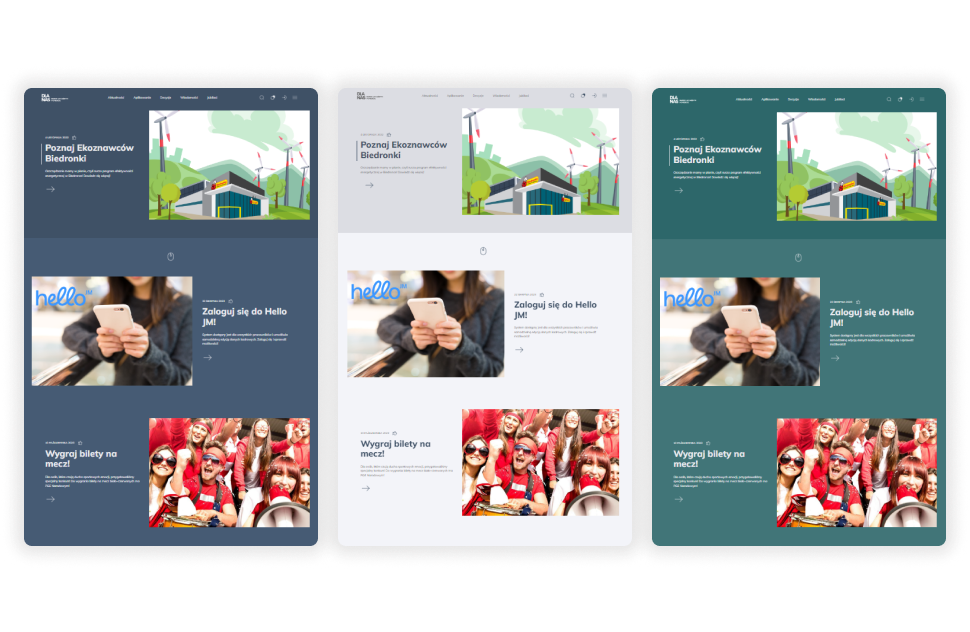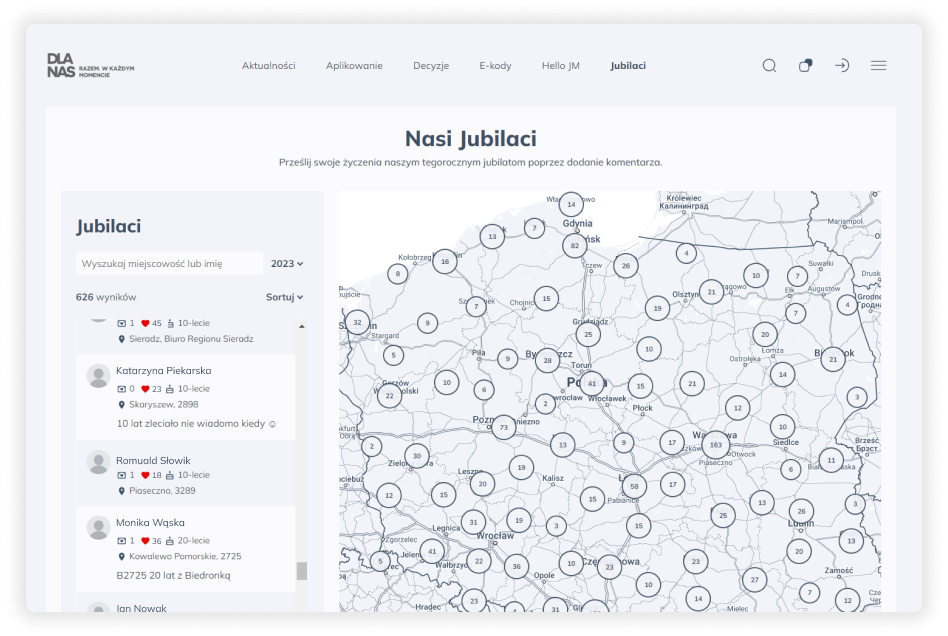 Furthermore, we implemented a jubilarians map, so that the users could congratulate each other on their work anniversaries. This feature enhances the website's engagement for Biedronka's employees. The 'messages' page ensures that all users can easily locate and read messages, thereby staying informed about relevant information.
We created an Intranet using Zend Technology, which was integrated into Biedronka's existing Intranet system. Following the coding phase, we conducted testing to identify and address any issues. Then it was time to launch the new version of the Intranet featuring a fresh layout and additional functionalities.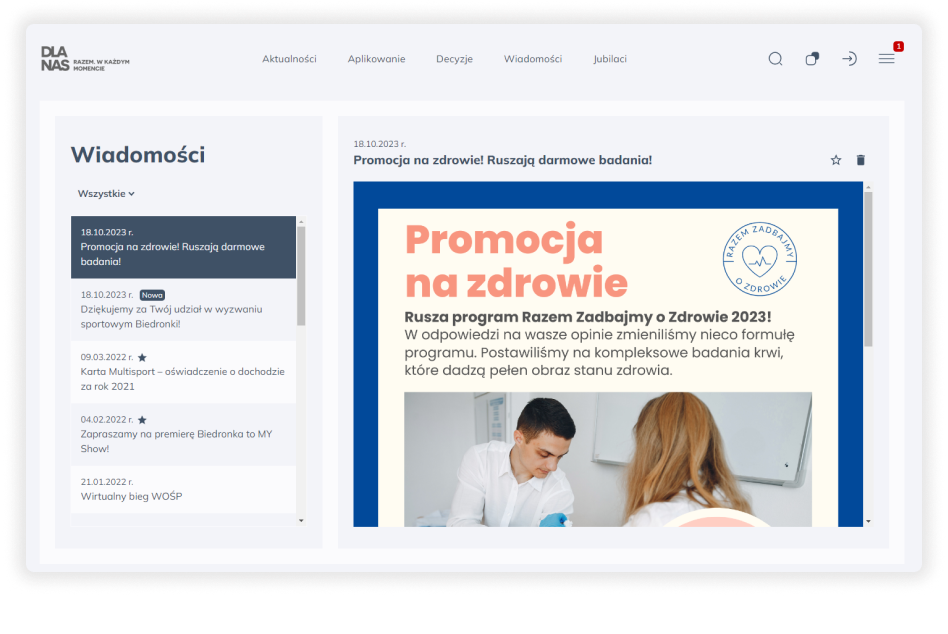 Xmas View
During the holiday season, we introduced a special subpage known as the Xmas view. It was a delightful addition to our project, offering users the opportunity to engage in holiday activities such as competitions, and quizzes.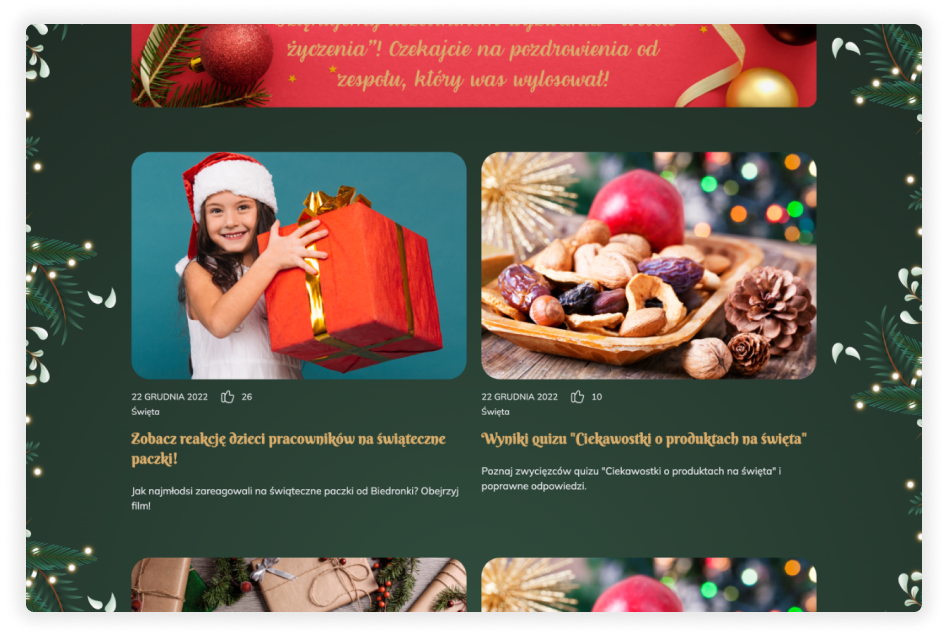 Numbers
With over 40 million views in 2022, the intranet's significance became evident. It primarily serves employees without business email accounts, who rely on it as their primary source of information. Our work maximizes the satisfaction from contact with the intranet.
40.2M recorded page views in 2022
+20% page views year to year
1st place in the Digital Impact Award
Together with Biedronka, we're thrilled to announce we won 1st place in the Digital Impact Awards in the Best Intranet category. This achievement reflects the dedication of our team and the collective effort that made this success possible. We appreciate the support from all involved in this journey. Thank you for helping us secure this prestigious award!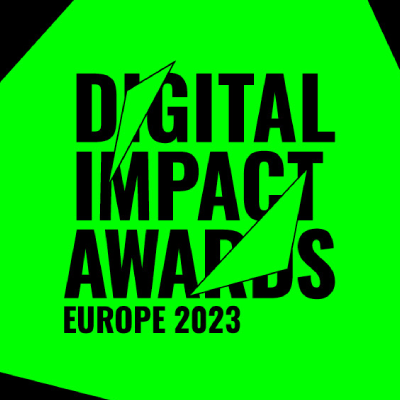 Dlanaswjm.pl website is the most important channel of communication with our employees. Therefore, security, trust and stability of the service is especially important when working with a provider. Cut2Code guarantees this level of approach to the project. With complex activities, such as changing the design of the site, we can count on valuable guidance to make the final product the best possible.

Marcin Rybicki, Senior Digital Communication Manager at Biedronka